Quality first dehumidifiers made using only the best technology and components
Buying a dehumidifier can be confusing at first. You might not know which the best for you and your needs is. Here we have out together a list of 5 questions you should ask yourself before making your purchase to make sure it is suitable for you.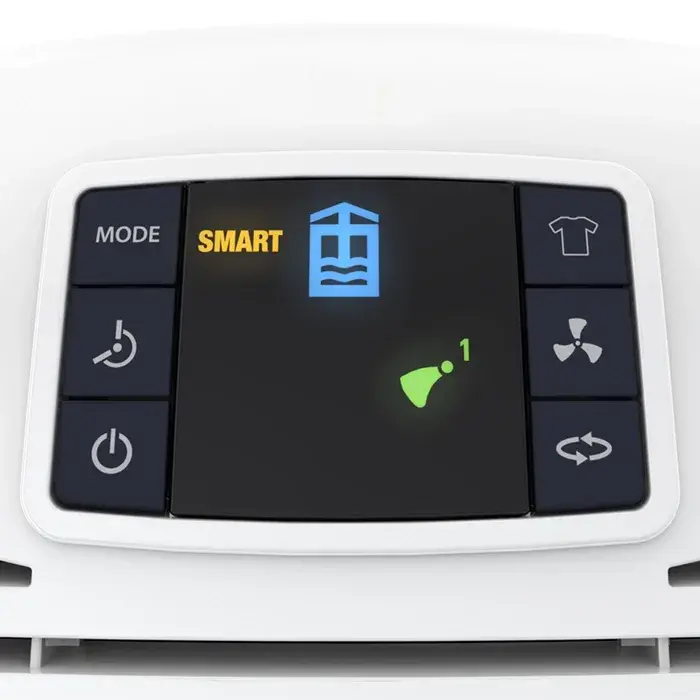 What are the running costs?
We have experience from selling over 1 million dehumidifiers over 30 years that running costs are the hidden factor for most dehumidifiers. Desiccant dehumidifiers and manually controlled compressor dehumidifiers can cost from 33% more to 3 times more than Ebac's patented smart control. If you think that's not significant, that's up to a mind blowing £150 per year in additional running costs. £150 per year, every year.
We estimate that an Ebac 3650 and a Meaco Desiccant dehumidifier, both taking out 2 litres per day over 200 days, will cost £70 and £140 respectively. However, because the desiccant has a greater capacity and poor controls it's running cost could easily be double at £280.
Of course, running costs are extremely important when purchasing a dehumidifier. You want it to be cost-efficient whilst also performing to a high standard. There are many elements of a dehumidifier that affect the running costs, including the control system and type of dehumidifier.
Is it a desiccant dehumidifier?
There are two main types of dehumidifier. Compressor dehumidifiers and Desiccant dehumidifiers. Desiccant dehumidifiers extract a large amount of water but have very high running costs. At typical UK conditions in occupied UK homes they consume twice as much electricity per litre of water removed. They are suitable for unheated buildings. These dehumidifiers are mostly used in industrial and construction projects where very large amounts of water need removed and running costs are not important.
For domestic use, we recommend that you purchase a compressor dehumidifier as they have lower running costs and extract an optimum amount of water for your home.
How is it controlled?
Many dehumidifiers in the market are controlled by a humidistat. These humidistats need to be changed and altered throughout the day in order to keep the dehumidifier at the optimum level. However, if you do not manually alter the humidistat, then it will increase the running costs and reduce the efficiency of the dehumidifier.
That is why at Ebac, we have developed our Smart Control system so that you don't have to worry about manually changing a humidistat. Ebac's patented Smart Control ensures your home is always protected and saves you money on running costs. No more taking out too much water. No more taking out too little moisture. Ebac's Smart Control is a new way of controlling your dehumidifier. Smart Control optimizes the performance of the dehumidifier to ensure condensation, damp and mould are eliminated in the most efficient and cost-effective way. By monitoring excess humidity in your home and only switching on when it needs to, Smart Control dehumidifiers operate more efficiently than any other dehumidifier.
How do you empty it?
Emptying a dehumidifier could not be easier. Every day all you have to do is remove the water container that is holding the moisture collected from the air and empty it in the sink or down a drain. This is why you have to make sure that the dehumidifier you are buying has a safe, secure water container so that it is easy to handle and does not spill. All Ebac water containers are enclosed and have a handle to make this process easy.
Is it well made?
Ebac design and manufacture domestic dehumidifiers that are the market leaders in the UK. Ebac design and manufacture commercial dehumidifiers that are sold around the world. We use high quality components, high quality compressors and heat exchangers. Our dehumidifiers routinely last over 10 years.