Ebac's Dehumidification with Heat Recovery (DHR)
1

SMART CONTROL

Ebac's patented control method saves up to 75% on running costs compared to other domestic ventilation units.
2

COMPACT DESIGN

Discreet, compact and built with a high quality robust steel casing to ensure quiet operation.
3

EFFICIENT HEAT RECOVERY

88% heat recovery ensures money spent on heating your home doesn't go to waste.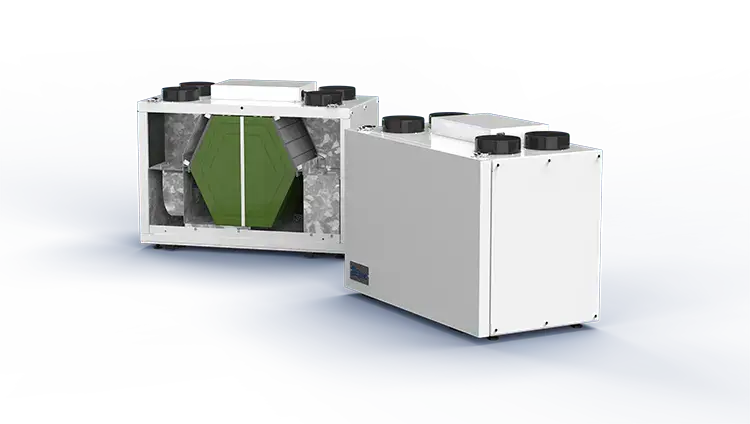 3

AUTOMATIC SUMMER BYPASS

When the temperature increases in the summer, switch off heat recovery to circulate cooler air.
4

DEFROST MODE

Integrated, automatic frost protection activates during lower temperatures to ensure effective operation all year round.
5

HIGH & LOW MODE

Set the unit's moisture extraction level and let the unit deal with everything else
Patented Smart Control technology
Low maintenance, whole house solution
Energy efficient heat recovery
Easily maintain your indoor climate
Simple Installation
Installed in hours, no building works or messy installation
Retrofit or Newbuild
Minimal ducting is required, ideal for retrofit, and can be installed in new build homes too
Non invasive
Only two small 150mm vents in your
celling
No emptying
Water is drained automatically
More Effective
Fast and permanent solution to condensation, damp & mould
No condensation
Removes up to 7 litres of moisture per day at UK conditions.
Allergies
Pollen, mould spores and air contaminants are filtered out
House odours
Odours from cooking, pets are vented and replaced with fresh air
Laundry Drying
Damp air is quickly expelled, speeding up natural drying by 30%
Summer Cooling
Replace warm internal air with cooler outdoor air, filtered for pollution and pollen
CO2 & Radon Expulsion
Removes CO2, Radon and other household contaminants
Low Running Costs
Up to 25% lower running costs compared to PIV systems.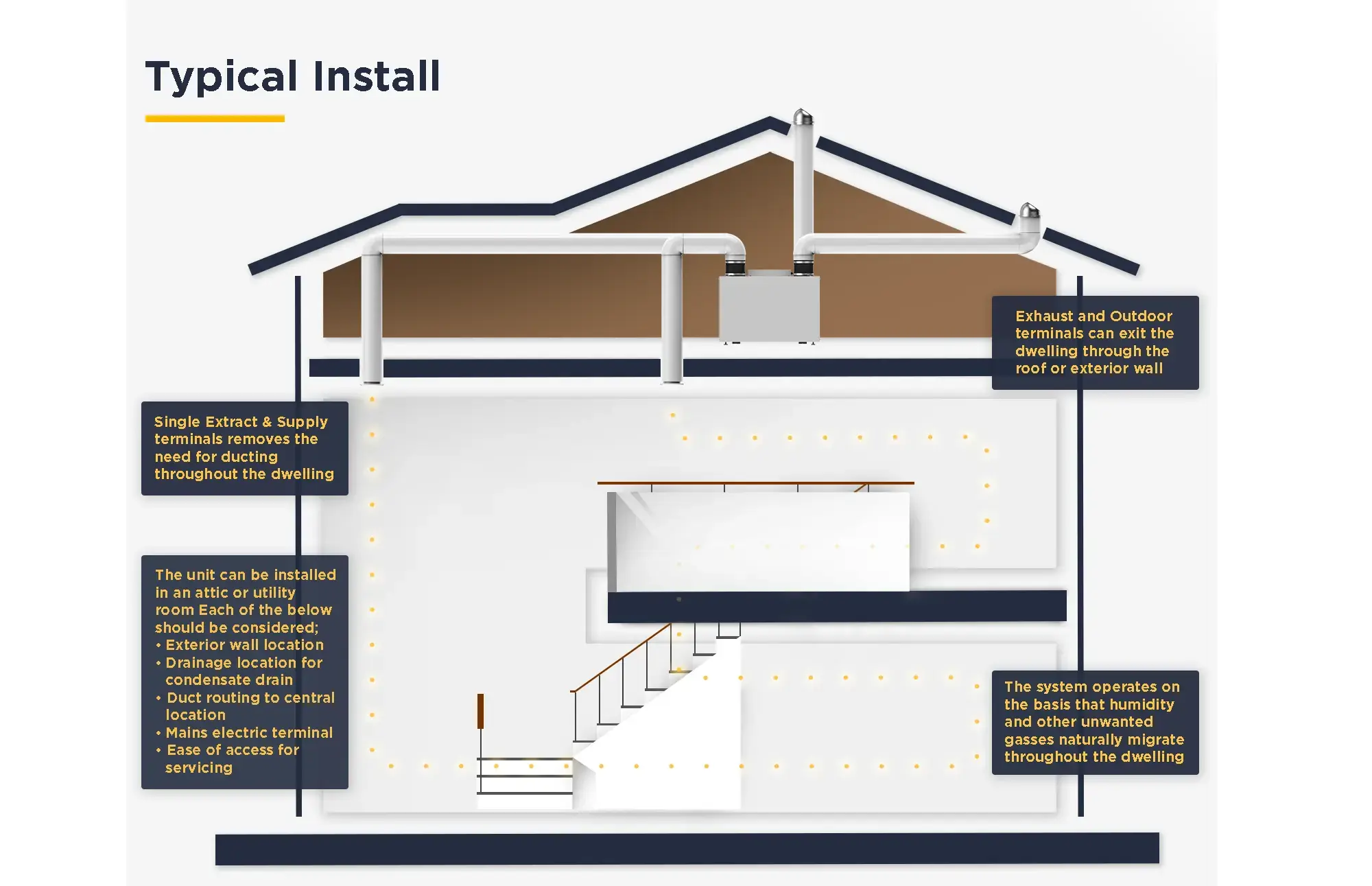 88% heat exchanger efficiency
Artificial intelligence SMART control
Integrated humidity & temperature sensors
G4 90% supply & extract filters
Integrated automatic frost protection
32mm thermal and acoustic insulation
Left or right-hand spigot configurations
Wall-mounted or free standing
| | |
| --- | --- |
| Ventilation Capacity at 100Pa (m³/h) | 242 |
| Rated power at 70% of max (W) | 47.4 |
| Weight (kg) | 35 |
| Temperature Efficiency (%) | 88 |
| Humidity Sensor | Yes |
| CO2 Sensor | No |
| Timer | No |
| Controller | Unit Switch |
| User Modes | SMART (High & Low) |
| Warranty | 2 Years |
| Housing Material | Galvanised & powder coated steel |
| Wall mounting | Yes |
| Floor mounting | Yes |
| Filter class | EU 4 (G4) |
| Mains Cable | 1.7m, UK 3 pin plug (Type G) |
| Connection diameter | 125mm |
How is install simpler than MVHR?
Shorter lengths of ducting routed on the same floor metres apart
Only one size of ducting used
No need for manifold boxes
Ducting to every habitable and wet room not required
No comissioning required
Fewer parts required (ceiling valves, plenums, elbows, insulation)