Ebac's Unique Control System provides outstanding performance
The Ebac DHR and MVHR can deliver up to 242m³/h of fresh, filtered air to ensure that indoor air quality is maintained at optimum levels. The system is equipped with the Ebac SMART control that allows the unit to self regulate the ventilation. This feature ensures that the home is not over-ventilated, which can lead to poor energy efficiency. Call our team on 0333 880 3427 to learn more.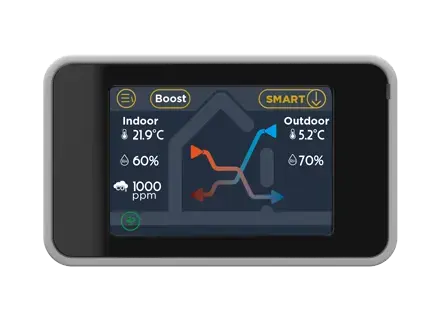 Why Choose Ebac's Unique control System ?
Analyse external air
Temperature and absolute humidity are calculated
Optimal humidity
The optimal RH varies with internal and external conditions, Smart Control automatically determines the right levels
Analyses internal air
Humidity, temperature and flow rate are analysed
Control System for optimal performance
Smart Control automatically manages the system to give the optimal conditions
Controlling Moisture with our DHR Smart Control
Ebac's DHR Smart Control users 50 years of experience to solve your damp and condensation issues whilst minimising costs.
Each system has a low and high setting.

Low Setting - For homes of low occupancy, which typically have low moisture production, low extraction mode should be selected. This ensures the system is set to the optimal extraction rate for the environment. The Low extraction rate typically removes 1 Litre of moisture per day.
High Setting - For homes with higher occupancy, typically with Increased moisture production, OR If after operating at the lower extraction rate the condensation does not clear, high extraction mode should be selected. This mode increases the air movement to remove more moisture, typically 3 litres per day.
In our experience, removing 1-3Litres of moisture per day is normally sufficient to prevent condensation problems.
Call our team on 0333 880 3427